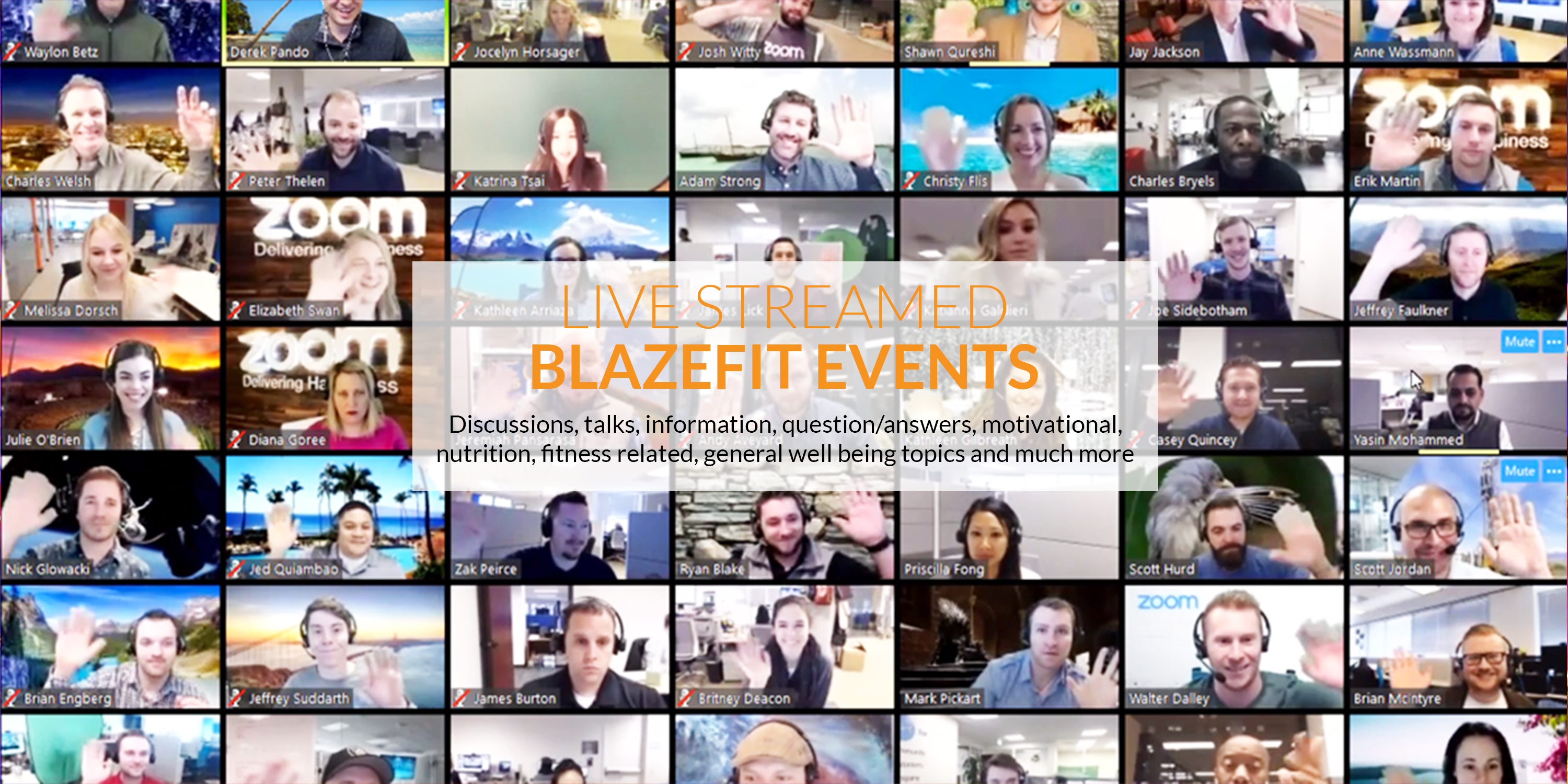 Here is a list of all our events
As a BlazeFit Community member you get FREE access to not only our incredible workouts every day but also to many events including inspirational talks, nutritional talks, general wellbeing information and much more.
INDIA OXYGEN APPEAL - 500 press ups challenge
Sunday 2nd May - 10.30am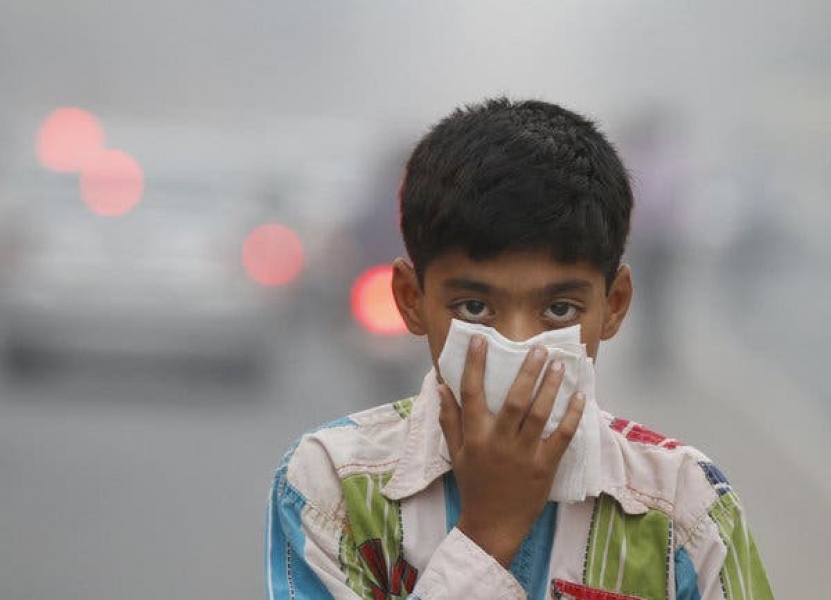 The value of oxygen is only realised when we struggle to get it. Unless you have breathing difficulties, we take it for granted. COVID in India has created a massive crisis where the results of lack of oxygen has resulted in mach loss of life, devastating families everywhere. Any funds raised will help towards many areas that have seen tragedy hit.
This Sunday 2nd May at 10.30 we are doing a 500 press up challenge to realise the importance of oxygen to our lungs and muscles. Join us, remember we have a choice to do this. Many people in India will not even have a choice to breath.
We will attempt to do 500 press ups (or squats if u cant do press ups) mixed with a variety of cardio exercises.
To donate please goto https://www.justgiving.com/crowdfunding/blazefit
Blazefit Body Reboot information meeting
Sunday 28th February 2021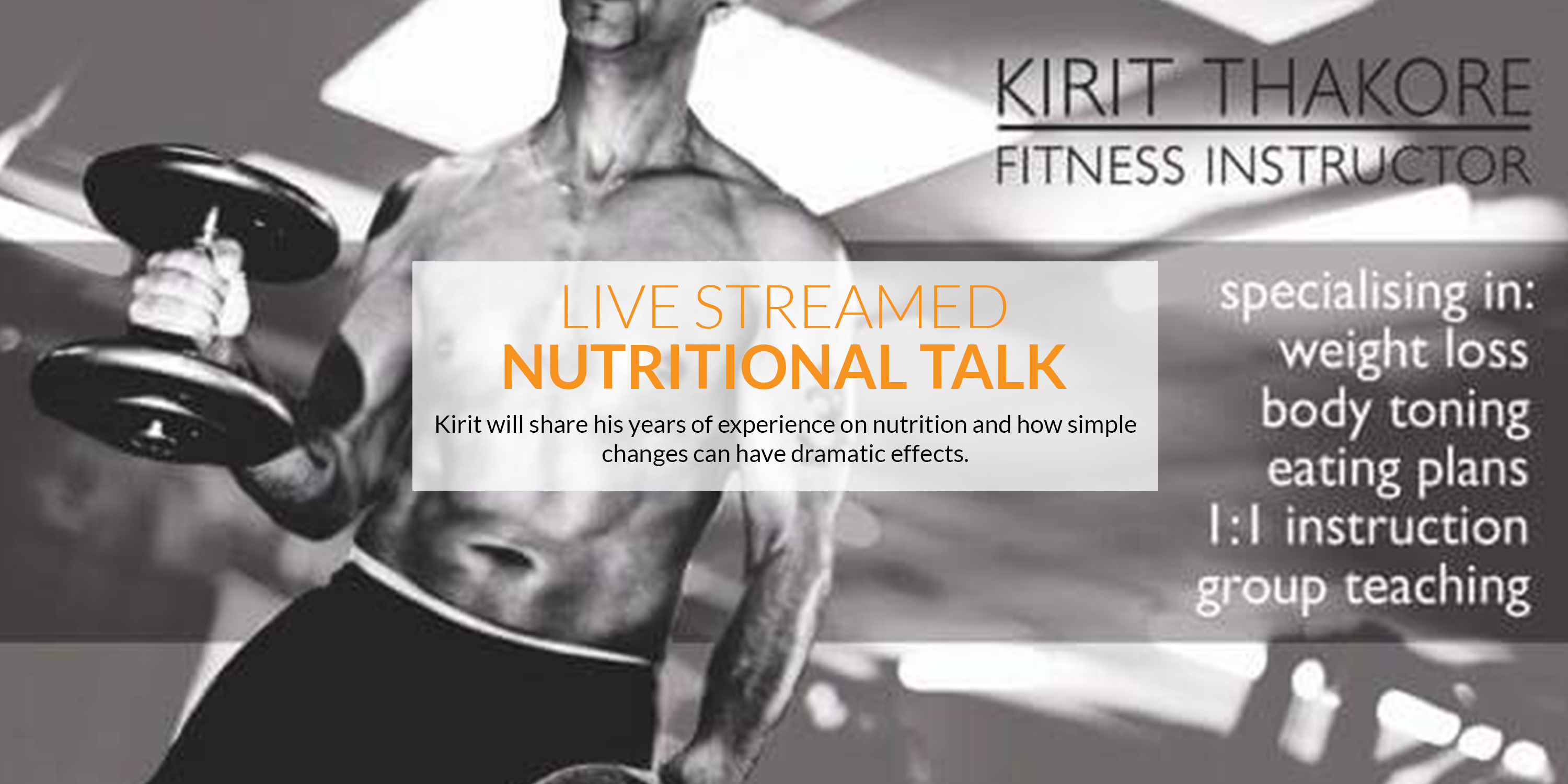 What to eat? When to eat?
These are important if you really want to see change.
At BlazeFit we have such a large choice of workouts that it is easy to get your weeks quota of exercise in. If you want to see greater results then what you do in the kitchen is very important.
Having transformed 100's of people through the incredible "Change My Shape" program, Kirit Thakore has gathered a lot of knowledge on the subject. He was a sponsored fitness athlete with a major supplements company where he learnt a lot about the supplements industry. Kirit will discuss what he does and the effects it has had. He will dispell many myths about nutrition and explain why we don't need to eat salads and drink lots of water to stay healthy. The proof, as they say, is that at 54, he is as fit as ever.
He will host an information session to guide you through the Blazefit Body Reboot program. There will also be a question answer session.
Please book your place on the course. For existing BlazeFit members, this will not be part of your class allowance. The course is listed on the timetable.
Valentines Day Loveuary Charity Event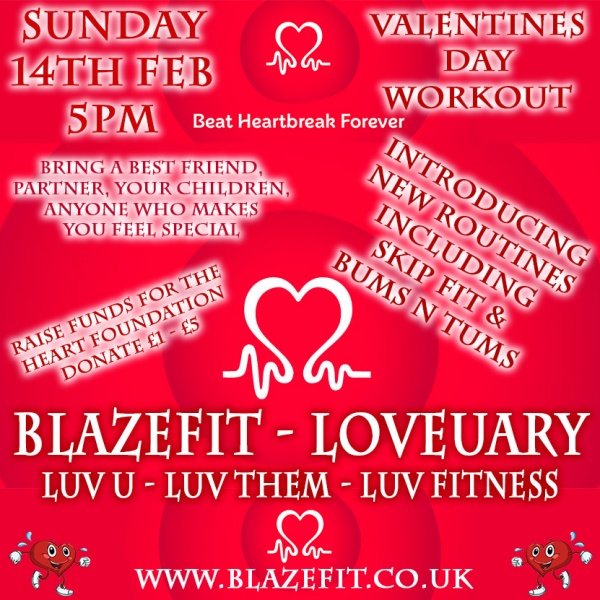 Join us in raising funds for the British Heart Foundation (BHF) with an hour of loving your body by keeping active. We will be introducing 4 new workouts that include Skip Fit, Bums n Tums, Bingo wings workout and Step workout.Conditions like heart diseases, stroke, vascular dementia are all linked by your blood not flowing properly. That's why our research starts with your heart, but doesn't stop there. Their research is unlocking the connections between heart and circulatory diseases and their risk factors. The research, is the promise to protect the people we love. Our parents. Our brothers. Our sisters. Our grandparents. Our closest friends.
So let's share the love with the ones we love. On a day that should be filled with even more love, why not spend it together, having fun and making all our hearts race a little faster.
The event is free and all we ask is if you could donate anything from £1 upwards toward the BHF
Insanity Launch
Saturday 21st November - 9am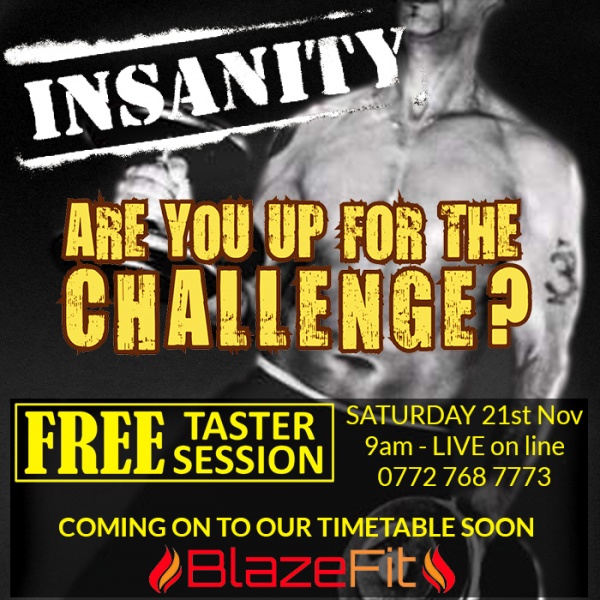 ARE YOU UP FOR THE CHALLENGE?
One of the worlds greatest and most successful workout program, Insanity, is being added to the BlazeFit timetable.
We are launching it with a FREE taster session, although maybe taster is the wrong word as it will be the full workout to give a real flavour of it.
Insanity is a total body workout that requires no gym or equipment. You exercise right at home, using your own body weight for resistance. The program is based on a fitness method called "max interval training." In traditional interval training, you exercise at a very intense pace for a short period of time, and then rest for longer periods in between. The idea is to increase your aerobic fitness level while burning fat.
Max interval training has you work as hard as you can for 3-minute intervals, with 30-second periods of rest in between. According to the Insanity web site, exercising at this extreme intensity level will help you burn up to 1,000 calories an hour.
Intensity Level: Very High
This is an extreme fitness program that requires you to work out at a very high intensity level with little rest in between. Even if you're already in good shape, it might be hard for you to keep up when you first get started. But as the saying goes, "Yoou don't have to be great to get started, but you have to started to become great'
Areas It Targets
Core: Yes. The program's Cardio Abs workout focuses on your middle section.
Arms: Yes. You'll use your own body weight to sculpt your arms, chest, and shoulders.
Legs: Yes. Insanity uses a technique called plyometrics, which features hopping and jumping exercises borrowed from sports like basketball, skiing, and boxing to tone your legs.
Glutes: Yes. Plyometrics also strengthens the muscles of your back end.
Back: Yes. The Insanity program is a total-body workout, so it does work the back, but it's more targeted to lower-body muscle groups.
Type
Flexibility: No. There isn't much stretching in these DVDs to improve flexibility.
Aerobic: Yes. Insanity is all about aerobics. It will help you increase your cardiovascular fitness and lose weight/body fat.
Strength: Yes. The max interval program will build strength and really challenge your muscles.
Sport: No. Insanity isn't a sport, although it does borrow techniques from sports training programs.
Low-Impact: No. What makes Insanity such an effective cardio workout are the high-impact exercises, which include jumping jacks, jumps, and sprints.
Good for beginners? The beginner will find this program hard but then so will the experienced. This is because the program is as difficult as you make it. Go flat out and you will feel it. For the beginner we suggest you do what you can, take longer breaks if needed but then jump straight back in. With time and consistency you will improve.
Outdoors. No. You'll need to be in front of a TV to follow along with the program.
At home. Yes. You do the workout right in your own home, following our experienced BlazeFit instructors.
Equipment required? A good pair of athletic shoes, and a lot of endurance. You use your own body weight for resistance.
It is very intense, so be ready to give it your all when you are ready to take the plunge. Working out at that level means results in much less time. The rewards will be some serious cardio along with calorie burning and muscle sculpting.
If you have any medical problems or take any meds, talk to your doctor before starting this workout.
Navratri 2020
Saturday 17th October - Sunday 25th October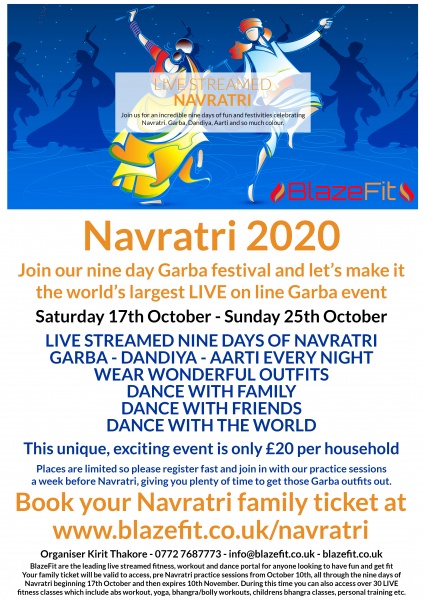 The world had changed so much in the last year and events that we thought were normal may take a very long time to return to normality. One of the biggest things to be affected is mass gatherings and Navratri is often celebrated with groups gathering to play Garba at venues such as school halls to massive stadiums. This year these halls and stadiums will lay empty and quiet.
BlazeFit has kept 1000's of people fit and healthy during this crisis with people joining in from all over the world to more than 30 LIVE workouts a week. It is with this experience and technology that we will celebrate Navratri 2020 and celebrate with everyone.
This year experience our live-streamed Navratri with a difference. Dance by yourself, dance with friends and family, or dance with the world; see everyone in their wonderful outfits on the screen; and see smiles on everyone's faces, all from the safety and comfort of your home.
We will perform the Aarti every night, so get your Aarti trays out and let's have the biggest blessing ever.
So how does it all work?
This unique exciting event is only £20 per household. Not per person but per household, so the whole family can get involved.
Once you have secured your ticket, you will gain access to everything from October 10th. This is a week before Navratri during which time we will be holding a few practice sessions where our incredible instructors will teach you some of the basic moves and routines. Nothing complicated but just lots of fun. The 1st of nine days will begin at 7pm on Saturday 17th October with each evening lasting just over an hour.
We will do Garba, Dandiya and also the Aarti. As each day goes by we will all become familar with it and it will become better and better. Every day will be a different colour of outfit, and although you don't need to i'm sure it will be incredible to see the screen light up in royal blue on day 5 or yellow on day 6.
Once the nine days have finished you will have got used to the BlazeFit site and possible glanced through and seen all the amazing workouts that we offer. Everything from yoga, abs workout, bhangra/bolly fitness, kids classes and so much more. We have extended your access till the 30th November so that you can continue to try out more classes (including our GarbaBlaze workout) with the hope that you may continue your mental and physical health journey with us.
At the end of your 30 days your access will stop, without worry of paying for anything more. If you would like to continue then subscribing is simple.
Places will be limited so please register your places fast and you will be able to join in with our practice sessions a week before Navratri, giving you plenty of time to get those outfits out.
Just Five More Minutes - a true story about children, love and murder
Sunday 20th September 2020 7.30pm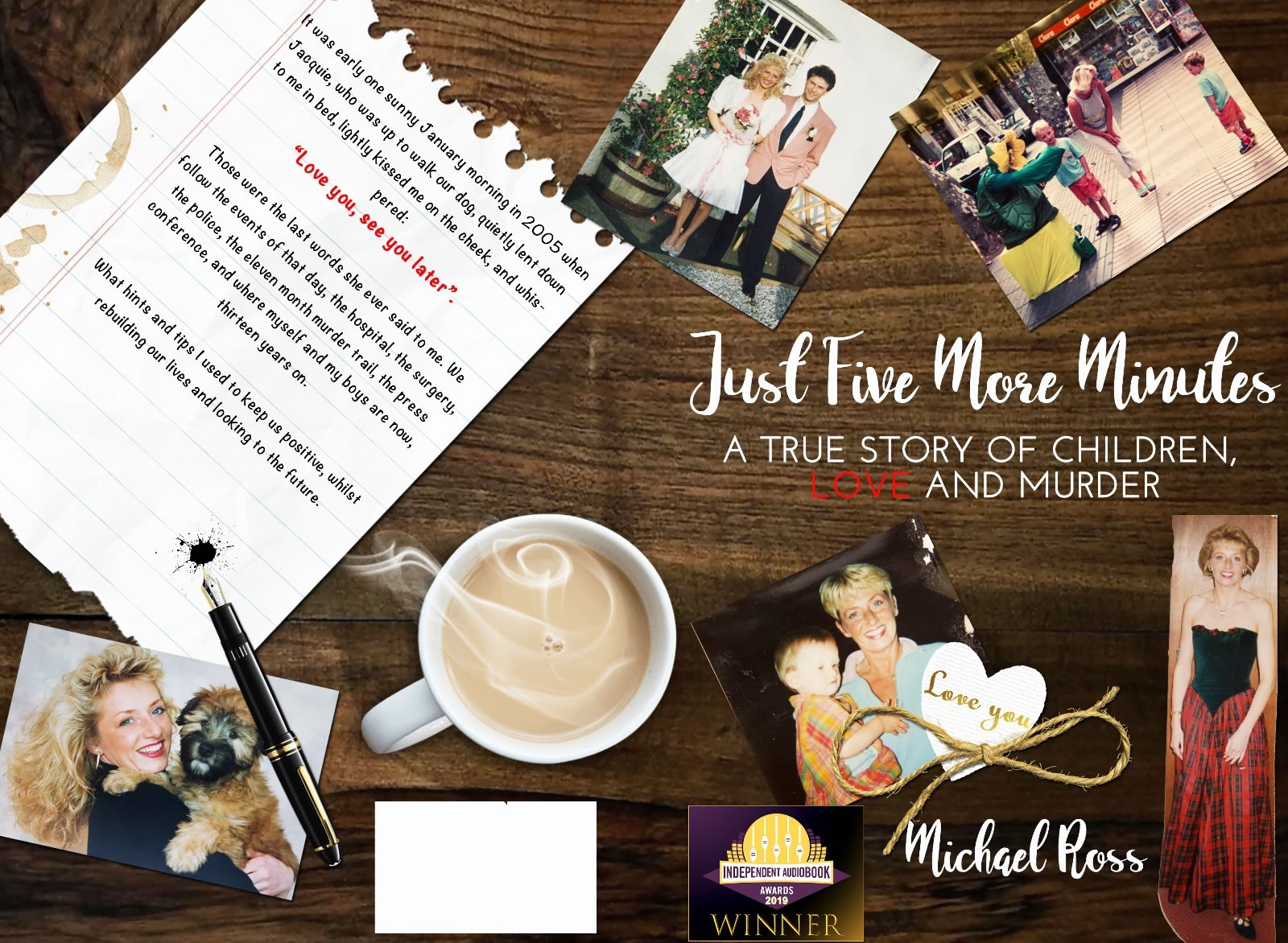 It was early one sunny January morning in 2005 when Jacquie, who was up to walk our dog, quietly lent down to me in bed, lightly kissed me on the cheek, and whispered: "Love you, see you later." Those were the last words she ever said to me.
This is a heartbreaking story; it's hard to even begin to imagine what Michael and his boys must have gone through. The realisation that something's wrong, that Jacquie hasn't come home; the hospital, what actually happened, the murder trial, the press conference, the memorial service, how their boys coped, how he coped and how they are doing now.
Michael's priority through it all was his boys. Making sure they understood (as much as possible at their age) and that they felt truly loved and supported, and able to explore any feelings they had. How Michael dealt with others is inspiring. All around him people were falling apart, and he was the one giving them a shoulder to cry on and helping to pick them back up! All the while, looking after the boys and managing his own emotions.
We see these things happen on the news and always hope it will never be us or someone we know.
Michael is able to look beyond the sadness and bitterness and see the true beauty in things, something that others haven't always understood. He shows us that, despite going through such a terrible tragedy, there is hope and with time things will be ok, it's all about small steps.
Join Michael, who is now a successful author, talking about his experiences. It really make you reflect on your life and the small things we worry about; It will bring out all your emotions; it will help you to understand a tragedy from someone else's point of view; It will warm you as well as sadden you, but mostly it will inspire you. We will have some time at the end for questions but to be sure of getting your question asked, please message us before the event.
If you would like to hear and see more about Michael and his book then here is a live interview on BBC Northwest TV
Here is a review of Michaels book - Just Five More Minutes
Find our more about the author Michael Ross