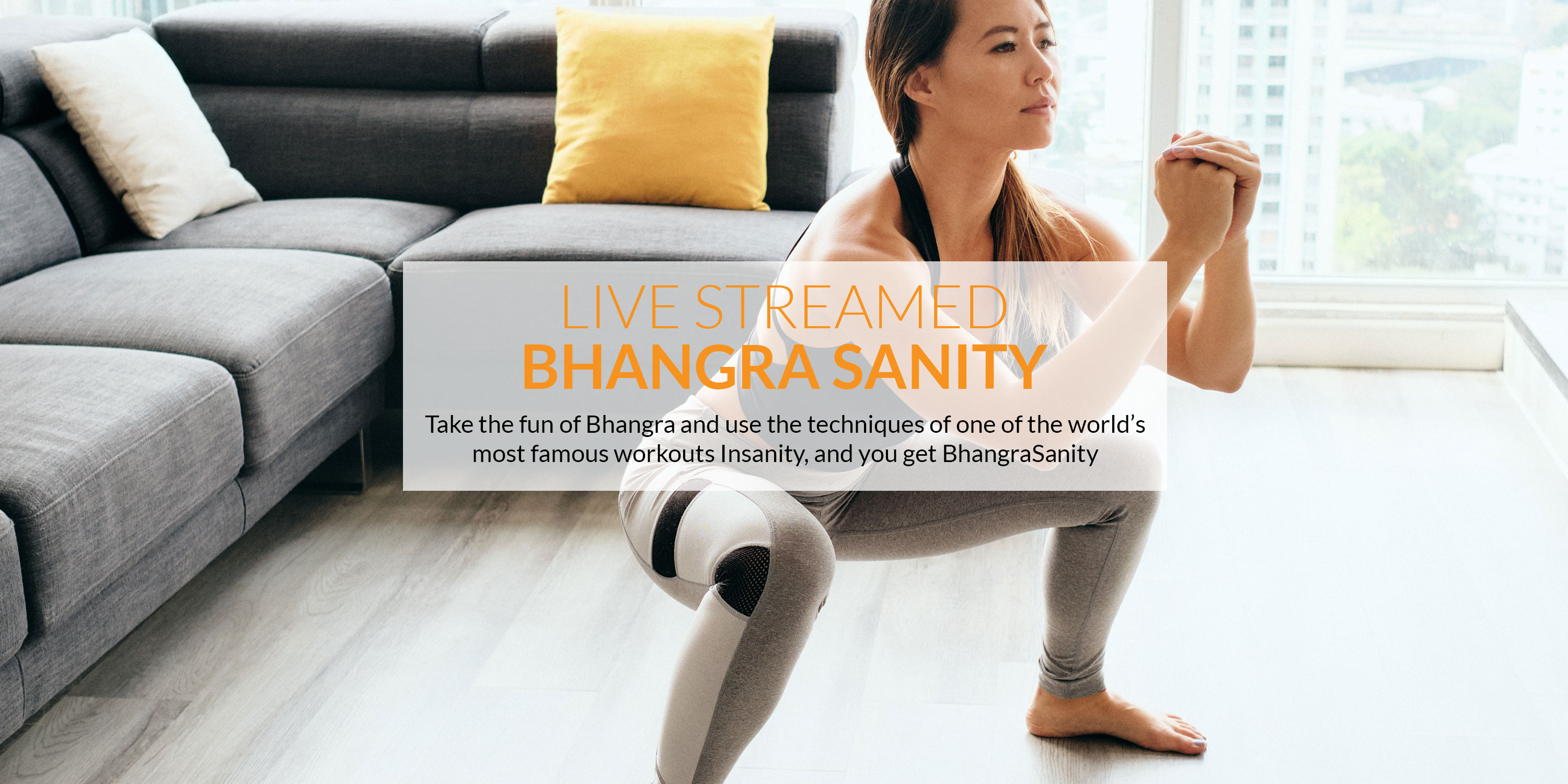 The best BhangraSanity live-streamed
BhangraSanity - the ultimate Bhangra workout
The perfect workout partnership of Bhangra and Insanity
We created the perfect combination of dance moves and workout exercises with this hugely rewarding and energetic workout. We've taken the fun of Bhangra and use the techniques of one of the world's most famous workouts, Insanity to create our BhangraSanity.
Bhangra
Bhangra is a folk dance celebrating harvest time in the Punjab region of India. The bouncing moves using high arms and high knee raise type moves make this a very efficient way to burn calories in a fun way. You probably recognise many of the moves (such as the famous light bulb move) as almost every party erupts when the Bhangra tracks come on. In fact hardly any day goes by these days without a clip of Bhangra on our TV's. It's been on Britain's Got Talent with duo Signature coming runners up. In fact one our routines uses clips of music from their performance.
Insanity
Insanity is a genius workout that took the world by storm. It involves bodyweight exercises and high-intensity interval training (HIIT). The enrgetic moves perfectly timed with limited breaks make this an incredible calorie burner, it is extremely effective.
BhangraSanity
Put the two together and you get BhangraSanity. The fun of Bhangra mixed with traditional workout moves, timed perfectly to create an amazing HIIT workout that is not only extremely effective but also great fun.
30 - 60 seconds of a simple Bhangra move to upbeat Bhangra music followed by 30 - 60 seconds of a traditional exercise (knee raise, body twists, start jumps etc) to motivating gym pump music and repeat.
Join our choreographed live-streamed class and enjoy an amazing, unique HIIT workout with routines from 4 minutes to 8.
Come and join our BhangraSanity classes and just watch your fitness levels rocket as you work through the routines.
If you're looking for a fun way to get into shape, join our live online classes for the ultimate fitness and wellbeing experience
See upcoming classes and full timetable