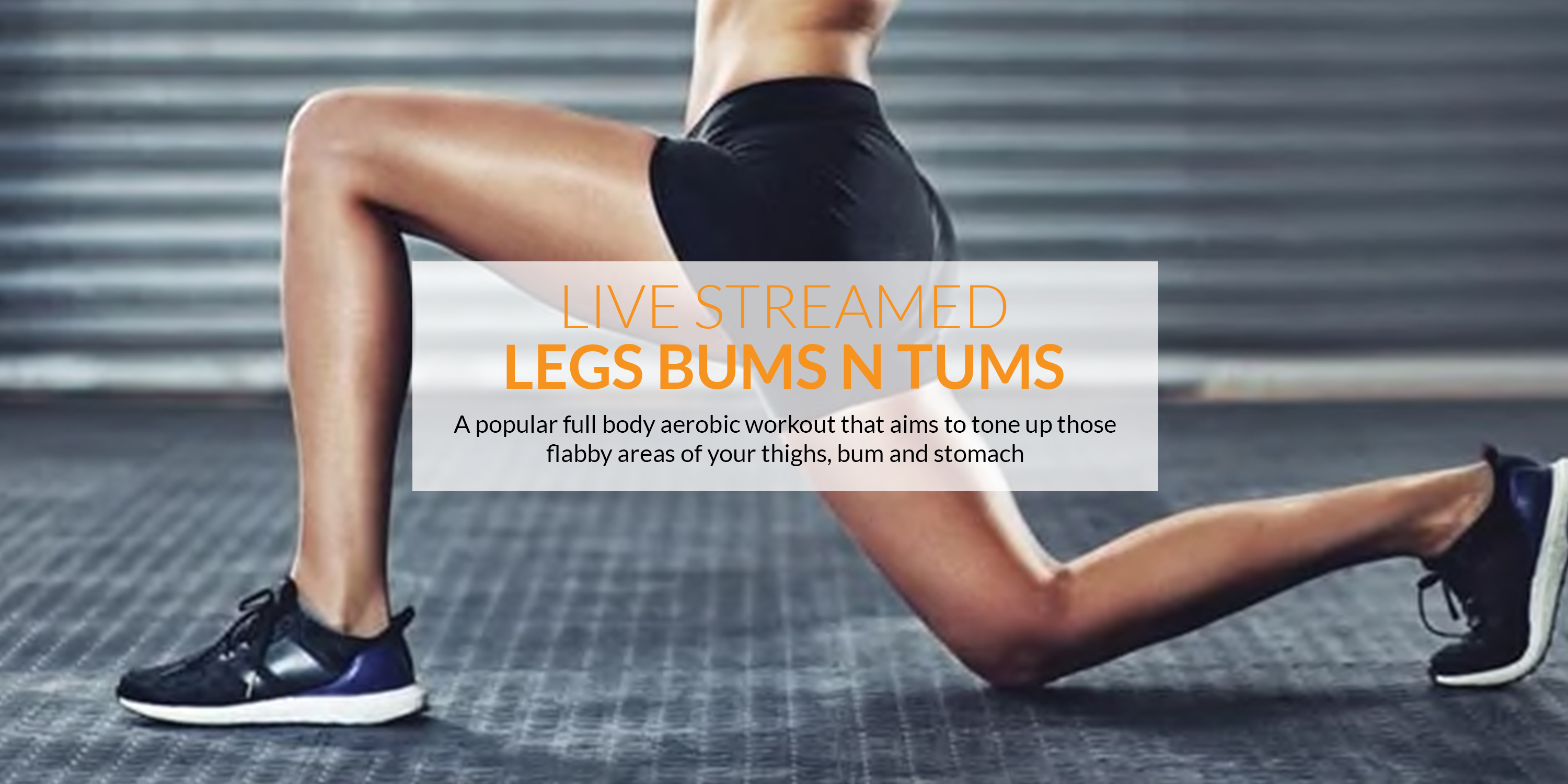 The best Legs Bums and Tums live-streamed
Legs Bums and Tums
A popular class which targets the legs, bum and tum area to shape and tone the body.
A persons' legs, bum, and tum areas are often considered the worst parts of the body when it comes to shifting unwanted fat. Our 'Legs, Bums and Tums' online classes are a fun filled way to help tone those wobbly bits.
What to expect from a class?
Legs, bums and tums is a full body aerobic workout that aims to tone up those flabby areas of your thighs, bum and stomach, great for those who want to lose weight or even for those who simply want to improve their fitness levels.
Our classes generally start with a gentle warm up to get your body moving. This may involve you jogging on the spot, doing some arm swings and shoulder rolls or just some general stretches to loosen those limbs before the real workout commences.
LEGS
Your legs will get a workout through lunges, step aerobics and all sorts of simple moves whether you're standing or air-cycling on the floor.
BUM
Most of our classes will incorporate squat exercises, great for building strength and toning up your thighs and bottom.
TUM
A whole range of core building exercises will help tone your stomach
Finally, after the exercises you must have a cool down as this will slow your blood flow back to normal after all the hectic exercising you have been doing. Be sure to have a good stretch to avoid feeling stiff the following day.
IS IT FOR ME?
Legs, Bums and Tums is great for anyone who wants to lose weight, as it is fantastic calorie burning workout which targets targeting those problem areas. It is also great for those who just generally want to get fit and raise their stamina with some aerobic exercise.
This class isn't just about looking good, but also about maintaining a good level of fitness that will keep you healthy and motivated in both your work and personal life.
BENEFITS OF LEGS, BUMS & TUMS CLASSES INCLUDE:
Full body aerobic & toning workout
Increases your stamina and endurance
Builds your strength
Increases your energy levels
Increases flexibility / mobility
A great workout for burning calories
An enjoyable exercise
Get a firmer bum, tum and leaner legs by attending our 'Legs, Bums & Tums' workouts
Try a FREE Legs Bums and Tums class
If you're looking for a fun way to get into shape, join our live online classes for the ultimate fitness and wellbeing experience
See upcoming classes and full timetable